Chancellor's Holiday Tea Invitation: A Crash Course in Pivoting
Supply chain, delivery dates, and buffalos—oh my. While many projects that designers and our clients work through together can be challenging or difficult, there's one every season that is just a perfect storm for disaster. Fighting industry-wide paper shortages, tight USPS holiday timelines, and a lost package in Denver, what started out as a nightmare resolved into a lovely event and stewardship piece that helps promote our brand with our highest-level constituents and friends.
The initial concept for this project was for all black paper sources for the invitation and envelope with white ink and gold sleeking throughout, however, because of time constraints and supply chain sourcing, we had to pivot this concept several times in order to meet our mail deadlines. 

While we were able to print all the gold invitation text and ornamentation in gold seeking, we had to change our envelope to be a silver foil metallic that we could source in time and still match the style and elevated nature of this project. 
The final gift for the donors in attendance at this event was a small gold pin that we wanted to co-brand with our famous buffalo, Ralphie. Upon licensing approval, we had to alter the artwork at the last minute to the one you see below. 
Because we were unable to receive them before our event, we pivoted to mailing a follow-up stewardship touch point while incorporating the same holiday elements from the invitation to create a cohesive and intentional communication thread with our donors.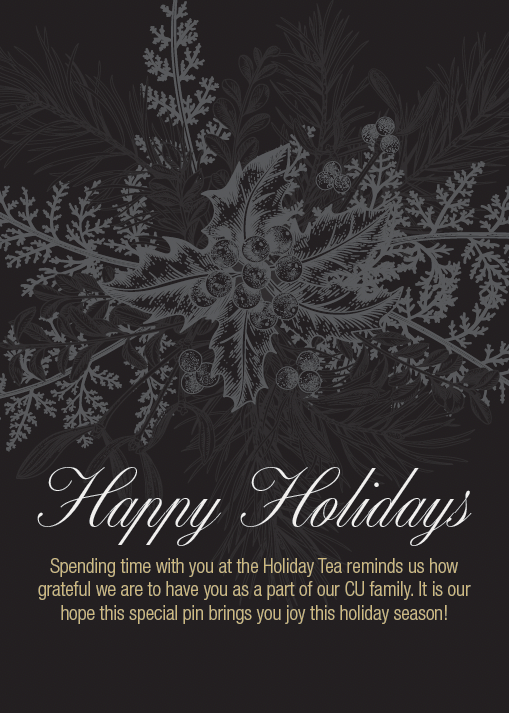 Ultimately, this piece was a successful implementation of several different printing processes, vendors, and partnerships. All of which aimed to successfully steward our highest-level donors and closest friends of CU, helping to continue their relationship with our brand and university officials.